From the makers of Red Obsession, comes the charming documentary Blind Ambition, featuring Zimbabwe's first-ever representatives at the World Wine Blind Tasting Championships. 
Be the first to witness this audience favourite documentary about an unlikely sommelier quartet, with an exclusive first look Preview for our Movie Club Members.
Winner of the Audience Award at Tribeca Film Festival and Sydney Film Festival, Blind Ambition,  is the inspiring story of four Zimbabwean refugees who conquered the odds to become South Africa's top sommeliers. Driven by relentless optimism, a passion for their craft and unshakeable national pride, they form Zimbabwe's first-ever wine tasting team and set their sights on the coveted title of 'World Wine Tasting Champions'. From the moment they arrive in France to compete, this team of mavericks turns an establishment of privilege and tradition on its head. A truly uplifting documentary that celebrates just how irrepressible the human spirit can be. 
Directors Robert Coe and Warwick Ross have described Blind Ambition as "The Cool Runnings of the wine world", offering a delightful underdog tale about four improbable sommeliers with a wholehearted passion for wine.
Event Details:
Monday, February 28 | 6:30pm
Pricing:
Palace Movie Club (max 2): $12.00
Palace Golden Club (max 2): $8.50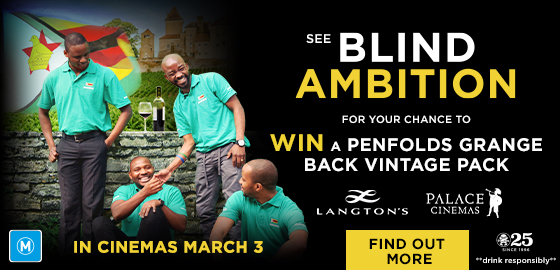 To enter the competition click HERE.
*Please ensure you sign-in to your account to access Membership prices.
Not a member? You can now join our FREE or PAID tiers instantly! Full details here
"Blind Ambition is a welcomed stimulant for the soul"
– The Knockturnal
"Outstanding"
– Blackfilm
Watch Trailer