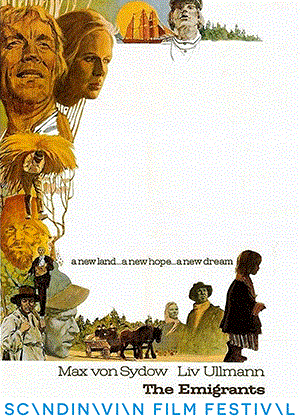 Synopsis
A monumental mid-19th Century epic from director Jan Troell and based on the best-selling Swedish novels Upon a Good Land by Vilhelm Moberg, 5-time Oscar nominee The Emigrants follows a Swedish farming family and their voyage to America to put down roots in this beautiful but forbidding new world.

Karl Oskar Nilsson (Max von Sydow) and his wife Kristina (Liv Ullmann), live on a farm in a cold and desolate area of Småland, rural Sweden. The growing hardships of their life, combined with increasing social and religious persecution cause the Nilssons and many of their neighbors to embark on an arduous journey to the United States. Following a long and treacherous ocean crossing and an equally gruelling land passage, the emigrants find themselves in the seemingly idyllic land of Minnesota.

Frequent Ingmar Bergman collaborators von Sydow (a great loss to the film world last year) and Ullmann deliver remarkable performances as the couple, who meet with one physical and emotional trial after another, reflecting the story of countless others who sought better lives across the Atlantic.
Awards
WINNER – Golden Globes 1973 – Best Foreign Language Film & Best Actress 
WINNER – Swedish Academy Awards 1971 & 1972 (Gulbagge Awards) – 1971 (Best Film) & 1972 (Best Actor)  
WINNER – Finnish Academy Awards 1972 (Jussi Awards) – Best Foreign Filmmaker  
WINNER – New York Film Critics Circle Awards 1973 – Best Actress 
Reviews
"Infinitely absorbing and moving."
- Roger Ebert