Swat away Hump Day blues with discounted Student tickets ALL DAY Wednesday. With tickets for only $8.50 for Student Members, catch the latest in quality releases and top-tier cinema at the best price*.
When: Every Wednesday
Tickets: $8.50 Student Member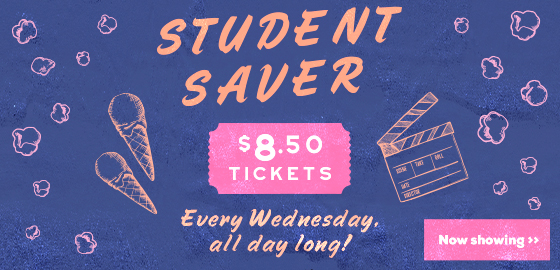 *ONLINE BOOKING FEE APPLIES. NOT VALID FOR PLATINUM. NOT VALID ON PUBLIC HOLIDAYS OR FOR FILM FESTIVALS AND SPECIAL EVENT SCREENINGS. MOVIE CLUB MEMBERS MUST PRESENT THEIR VALID MEMBERSHIP. VALID STUDENT ID MUST BE PRESENTED WHEN REQUESTED.  ADDITIONAL SURCHARGES APPLY FOR DELUXE & UPGRADE SCREENINGS.