We're so excited to welcome you back Melbourne!
"There have been no cases of community transmission of Covid-19 in cinemas around the world"
Variety
"More Australians go to the movies than any other cultural venue or event"
Australian Bureau of Statistics
"A poll of 500 health professionals found agreement that going to the movies is as safe as indoor dining"
New York Times 
---
Our New Operating Procedures*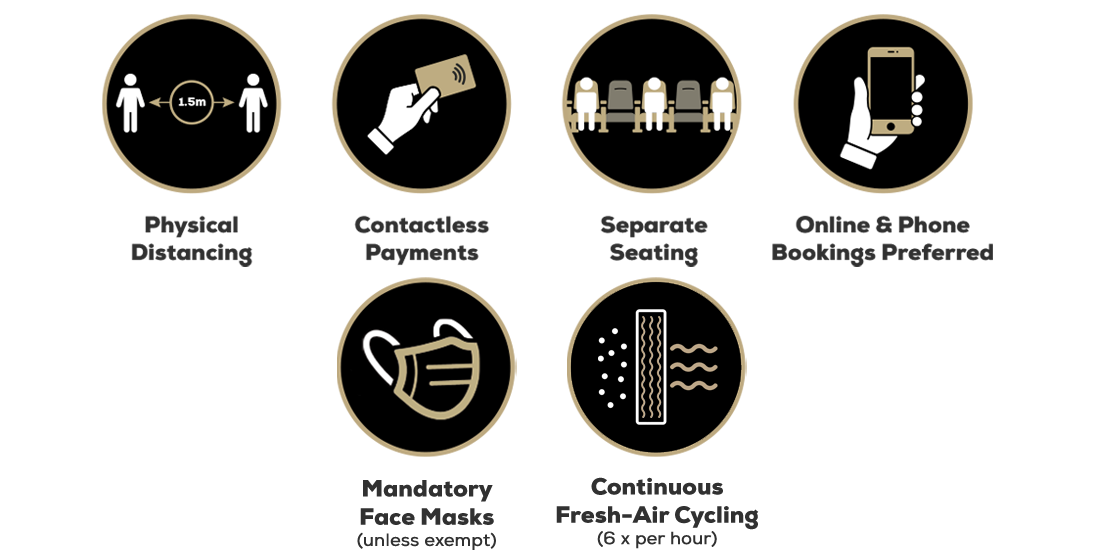 Additional Procedures and Services
– Face Masks: All guests are required to wear a face mask within the venue (unless exempt). Can be removed once seated to eat your favourite cinema snacks.
– Capped cinema capacities in line with Government regulations.
– Seating allocation will allow for safe social distancing from other bookings in groups of 2.  Allocated seats must be adhered to, even within groups larger than 2.
– Increased fresh-air rates within the cinemas. Our air regulation systems will provide higher air changes rates within each auditorium, cycling new fresh-air to match the occupancy of each cinema 6 times per hour.
– Hand-sanitiser at every point of service, and a dedicated hand-sanitiser station in every foyer.
– Staggered sessions to reduce foyer congestion between screenings.
– Increased contact surface cleaning.
Online & Phone* Bookings Preference Information
While online & phone booking* will be preferred and prioritised for the majority of patrons, you can still purchase tickets at the bar and box office, but please note that due to limited capacity we may not be able to accommodate you into a session.  Contact information will also be required as part of the transaction in line with goverment regulations.  Please also note the following ticket redemptions can only be accepted at points of sale  –
– Complimentary Passes
– Distributor Passes
– 2-for-1 Passes
– Film Festival Passes
– Companion Card Holders
– Veterans' Affairs Card Holders
– Mobility Impaired & Wheelchair Accessible Seating
*For customers that cannot book online but would like to reserve their seat –phone-booking is available during regular business hours.  Contact numbers for your local Palace Cinema can be found HERE.
Please note phone calls may be put on hold while staff are serving, we appreciate your patience.    

More FAQs and answers about our re-opening can be found HERE
*For the most up to date health advice for your state, please refer here: NSW, ACT, VIC, WA,and QLD.